A Catered Valentine's Day (2007)
Buy at Amazon.com
Buy at BN.com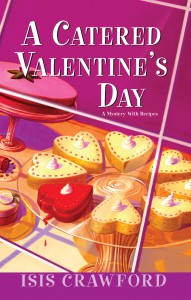 Caterers couldn't be any busier than Bernadette and Libby Simmons on Valentine's Day. This year a fund-raiser a taking up a lot of their time. And though love is in the air, so is murder.
Bernie and Libby, owners of A Little Taste of Heaven, have plans to partner up with the Just Chocolate store for a taste-tempting Valentine's Day fund-raiser featuring pairings of exotic chocolates, food, and wine, as well as a kissing booth, a fashion show, and a bachelor auction. And though Bernie isn't too happy about her boyfriend volunteering to be auctioned off, she's got too much on her plate to be jealous: one of the coolers is leaking; they need a new butter supplier; employees have relationship issues; and the mother of a very good client has died.
Putting their preparations on hold, Bernie and Libby attend the funeral only to be recruited to help solve a mystery. In an old cemetery-turned-lovers-lane, the body of Ted Gorman has been found in someone else's grave. This is the same Ted Gorman who supposedly died in a fiery crash weeks earlier, leaving his body nearly unrecognizable. Though Libby and Bernie can easily tell that it's him, Libby knows there's something "off" about the body, though she can't put her finger on it.
Ted was the owner, with his wife, of Just Chocolate. So now as Bernie and Libby continue working with the grieving widow, they open up a mixed box of dark financial scandal, sticky family ties, bittersweet passion, and just deserts. And the chocolate covered clues will lead to someone with blood on their hands….
REVIEWS

Publishers Weekly
"Crawford's well-paced fourth culinary cozy (After 2005's A Catered Christmas) finds sisters Bernie and Libby Simmons, who run a catering business in Longely, N.Y., called A Little Taste of Heaven, flooded with a rush of orders for Valentine's Day on top of the fund-raiser they're organizing with recently widowed Marnie Gorman. But their duties take them beyond the kitchen when Marnie's dead hubby, Ted turns up in some else's grave – and in far better condition than after his death in a fiery car accident. Funeral home mogul Clayton Hanson, father and employer of Libby's undertaker boyfriend Marvin, calls on Bernie and Libby to solve the grave-swapping mystery, and the sisters bring their wheelchair bound ex-policeman dad, Sean, as reinforcement. But even as a two-time corpse Ted is not at rest. On the romantic front, as Bernie's love with her sweetheart, Rob, fades, longtime friend and bartender Brandon appears more than willing to take his place."

Romantic Times
"This fun and entertaining novel combines a cleverly plotted mystery with mouthwatering descriptions of sweet confections all wrapped up in the wonderful interactions between the sisters and their father."