A Catered Halloween (2008)
Buy at Amazon.com
Buy at BN.com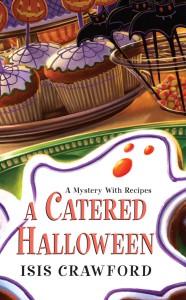 Sisters Bernadette and Libby Simmons are thrilled they've been asked to cater a haunted house fund-raiser. But they soon discover that ghosts aren't the only uninvited guests when a murderer strikes.
With the promise of a hefty commission and some valuable word-of-mouth for their catering business, A Little Taste of Heaven, Bernadette and Libby Simmons agree to cater the charity haunted house being staged at the old Peabody School. The gothic building – complete with towers and turrets- is the perfect setting for a haunted house fund-raiser. But what makes the setting even more eerie are the rumors milling around town that the school is haunted by the ghost of Bessie Osgood, a girl who died in an 'accident' years before. Bernie and Libby don't believe in ghosts although they both agree there's something creepy about the Peabody School. And when wealthy socialite Amethyst Applegate is found dead in the haunted house, the sisters wonder if a murderer might also be lurking about Peabody's gloomy halls.
In life, Amethyst Applegate earned herself a reputation as a notorious home wrecker. The vicious vixen had so many enemies it's a surprise she stayed alive as long as she did. They range from Inez Colley, whose husband had a steamy fling with Amethyst one night, to Bob Small who went to jail for grand larceny because of Amethyst, and Zack Timberland who blames Amethyst for ruining his daughter's life. And that's just the beginning of the long list of suspects.
While almost everyone Amethyst ever met might have a motive for killing her, not everyone had access to the Peabody School. All Bernie and Libby know is that it's time for them to crack the case wide open. But when they keep hitting one dead end after the other, they realize the key to solving Amethyst's death lies in discovering what really caused Bessie's death all those years ago. And if Bernie and Libby don't solve the mystery soon, they might become the next stars in a real-life horror flick.
REVIEWS

Publisher's Weekly

"In Crawford's fun, well-paced fifth culinary cozy to feature Bernadette and Libby Simmons (after 2007's A Catered Valentine's Day) the sisters cater a fund-raiser for the Longely, N.Y., volunteer firemen that includes a high-tech haunted house, formerly the Peabody School. In a room evoking the setting of Poe's "The Pit and the Pendulum," the severed head that rolls down some stairs and lands at Libby's feet proves to be real. The victim, Amethyst Applegate, had been a student years earlier at the Peabody School, where another student at the time, Bessie Osgood, died under suspicious circumstances. Is Bessie's ghost still haunting the place? Aided by their father, Sean, the town's retired police chief, Bernie and Libby discover that Amethyst, a notorious home wrecker, had no lack of enemies. A selection of delectable seasonal recipes rounds out the volume."

Romantic Times
"A cleverly plotted mystery with mouthwatering descriptions of sweet confections."