A Catered Christmas Cookie Exchange (2013)
Buy at Amazon.com
Buy at BN.com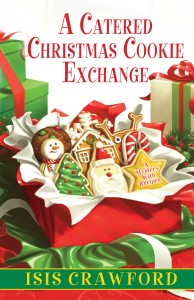 Bernie and Libby Simmons, caterers extraordinaire, are hosting a televised cookie contest just in time for Christmas, but unfriendly rivalries cook up a cutthroat competition.
The snow is falling and there's a wreath on every door in Longely, N.Y., and that can only mean one thing: The feisty members of the Christmas Cookie Club Exchange are busy perfecting their recipes once again. And with the Baking for Life cookie contest on the line, the stakes are higher – and deadlier- than ever.
Millie Piedmont is certain that Millie's Majestic Meltaways will win the competition – and when she dies in a suspicious car accident en route to the show, Bernie and Libby wonder if a rival club member may have felt the same way. Millie's niece enlists the sleuthing sisters to help her find answers. Did someone run Millie off the road? And who stole the cookies from her car?
The members of the Cookie Club appear to be grieving the loss of their friend, but Bernie and Libby start digging and are shocked to uncover a soap opera of sinister secrets and clandestine affairs. Perhaps all the backbiting, gossip, and petty jealousy were just the right ingredients to whip up a half-baked murder.
Between Christmastime catering and catching a killer, Bernie and Libby may have bitten off more than they can chew. But they'll stop at nothing to get the truth, because no holiday treat is sweeter than justice.