A Catered Birthday Party (2009)
Buy at Amazon.com
Buy at BN.com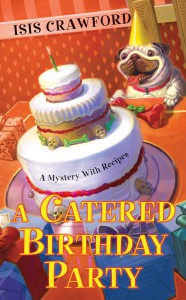 "When sisters Bernie and Libby Simmons sign on to cater a prize pooch's birthday bash, they think they're ready for anything. But they haven't bargained for a killer with a bone to pick…
A Little Taste of Heaven catering certainly knows how to feed people. Dogs, however..? Bernie and Libby will have their chance to impress guests of the four-legged variety when they lay out the spread for Trudy the Pug's birthday luncheon. But this isn't just any doggie 'do'. Annabel Colbert is one of the richest women in town – and as the mascot of the Colbert toy company, Trudy herself is a bona fide celebrity.
When the big day arrives, Trudy and her canine cohorts are ready to dig in to the delicacies – but the first to dip her fangs into the wine is Annabel. Mere moments later, the hostess is shrieking she's been poisoned – and proving it by falling face first into her soup. After two days in a coma, Annabel is dead.
It seems the woman who had everything also had her share of enemies. In fact, Annabel was cheating, blackmailing or backstabbing most of the people she knew, including her best friend, her husband, his personal assistant, and last but not least, Trudy's trainer and kennel owner.
With so many suspects, sniffing out the truth is rapidly becoming a tricky, not to mention risky proposition. Bernie and Libby had better close the oven on this case fast- before they get burned."
REVIEWS

Library Journal
"Fans of Diane Mott Davidson and Joanne Fluke will enjoy the investigative and culinary antics of the nosey sisters."

Publishers Weekly
"At the start of Crawford's diverting sixth mystery to feature Bernie and Libby Simmons (after 2008's A Catered Halloween), imperious Annabel Colbert hires the catering sisters of Longely, N.Y., to cook for her beloved pug's birthday lunch, demanding the same menu for the dogs and the people – at the same table no less. At the party, shortly after insulting all her human guests and drinking what she realizes is a glass of poisoned wine as soon as she gulps it down, Annabel collapses. Before losing consciousness, the wealthy entrepreneur (who dies two days later) gets Bernie and Libby to promise to find her killer. Suspects include Annabel's philandering husband, the husband' gorgeous, surgery-enhanced assistant; and the high school friend whose original idea Annabel stole to make millions…."