A Catered Murder (2003)
Buy at Amazon.com
Buy at BN.com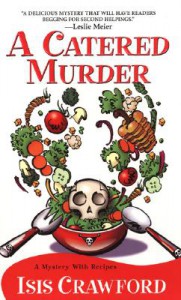 Bernadette Simmons wasn't sure what to expect when she left L.A. – and her no-good cheating boyfriend – to move back with her too-close-for-comfort family in New York. And her sister Libby had no idea what she was in for when she hired Bernie to work for her catering business. But in between cutting up canapés and dishing up desserts, the two find themselves in the midst of a mystery they can really sink their teeth into.
It's only been a few days since Libby hired her sister Bernie to help out at A Little Taste of Heaven and already they've got their hands full –baking cookies and slicing rare beef tenderloin to serve at a high school reunion. The dinner has a 'Dracula' theme and a very strange guest of honor: Laird Wrenn, a New York Times best selling author of vampire novels. From the minute he sweeps into the school cafeteria – decked out in a cape, accompanied by some truly odd hangers-on – Libby and Bernie know this will be an evening unlike any other. And they're right. During the dinner speech, Wrenn pours a glass of water, takes a long sip – and drops stone-cold dead.
Talk about a recipe for disaster. Especially since the police are still combing the dinner leftovers for clues – and have made it perfectly clear that they consider Libby a suspect. True, Libby had an argument with Wrenn the day of his murder. But there are plenty of other people – Wrenn's recently spurned girlfriend and his chatty publicity agent among them – who make more plausible murderers. Now Libby and Bernie will have to put their heads together to figure out whodunit – in a mystery that promises to be deadly to the very last bite.
REVIEWS

Publishers Weekly
"In her assured debut, Crawford, a caterer with many travel-related articles to her credit, introduces an appealing family trio: tender-hearted Libby Simmons, owner of a catering business, A Little Taste of Heaven in Longely, N.Y.; her wisecracking sister Bernie, a refugee from L.A. and a disastrous marriage; and Sean, their wheelchair-bound father, a retired police chief. Nasty Laird Wren, a best-selling author of vampire fiction, plans to celebrate his success with appropriate menu (Bloody Mary's, devil's food cake) and décor to match (black roses, a coffin) at a reunion dinner to be held at the local high school. When Laird drops dead at dinner after drinking a glass a slew of ill wishers, including Libby's close friend Tiffany, whom Laird was stringing along, become suspects in his sudden demise. A naturally flowing narrative, lively and likeable characters, and plenty of clever word play among the foul play set this first novel above the common run of cozies."

I Love A Mystery
"Fans who love culinary mysteries are going to gain pounds after reading this delicious who-done-it – a very exciting debut mystery by an author who provides a moveable feast starring characters readers will care about."

Romantic Times
"Crawford's appealing writing style engages readers from the first paragraph."