A Catered Thanksgiving (2010)
Buy at Amazon.com
Buy at BN.com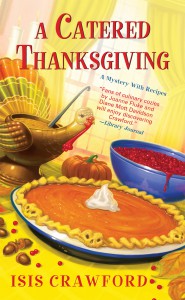 Sisters Bernie and Libby Simmons have handled plenty of catering challenges with grace and aplomb. But this Thanksgiving they're cooking a feast for felons.
Whipping up Thanksgiving dinner with all the trimmings can be stressful for anyone, but that goes double for the Field family. They know that every family get-together has to be picture perfect, or they risk getting cut out of dominating patriarch Monty's extremely lucrative will.
That's where A Little Taste of Heaven, Bernie and Libby's catering company, comes in. Surely with their lumpless mashed potatoes and to-die-for gravy on the table, even the super-dysfunctional Fields can pretend to get along for one meal. But no one can dress up the disaster when the cover-worthy turkey goes boom right in Monty Field's scowling face, sending him to that great dining room in the sky.
With every member of the Field family harboring their own cornucopia of secrets, figuring out who wanted to carve up Monty won't be easy. And to make matters worse, the Field mansion is draped under a freak November snowstorm, making any hope of escape – or getting outside help – vanish faster than the Simmons famous stuffing.
Now, trapped with a killer determined to get more than his fair share of the pumpkin pie, Bernie and Libby are going to have to convince the Fields that they aren't to blame – and find out who really is, fast. Because it won't be long before the leftovers – and the Simmons sisters' chances of surviving this real turkey of a day – run out for good.
REVIEWS

Romantic Times
"This over-the-top cozy is a strong addition to the Catered series. The good-natured bickering between the sisters as well as the eccentric secondary characters make this a very funny book with laugh-out-loud scenes. This will please Crawford's old fans and bring in new ones."

Publishers Weekly
"In Crawford's sprightly seventh mystery with recipes featuring sisters Bernie and Libby Simmons (after 2009's A Catered Birthday Party,) the proprietors of A Little Taste of Heaven, their Longely, N.Y., catering company, prepares a Thanksgiving feast for Scrooge-like fireworks manufacturer Monty Field and his family at the Field mansion. When Monty comes into the kitchen to test the roasting turkey, Bernie and Libby watch in horror as Monty taps the pop-up button in the bird's breast and the turkey explodes, blowing off the top of his head. Libby fears their stuffing made the turkey explode, but they soon learn that there was plenty of rivalry among the assembled family members, any of whom had reason to want Monty dead. A heavy snowstorm ensures the suspects stay put as the sisters start to investigate. That their father Sean was on bad terms with the victim only complicates their task. The action builds to more fireworks and a dramatic rescue."