A Catered Christmas (2005)
Buy at Amazon.com
Buy at BN.com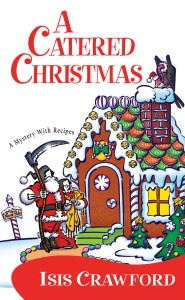 As picturesque Longely, New York, gets ready to ring in the holiday season, caterers Bernadette and Libby Simmons are coping with the busiest time of the year. If that's not enough to make them run around like crazed elves, they're recruited for a cooking show contest that pits celebrity chefs against each other – and gives rise to murder.
Visions of sugar plums are most decidedly not dancing in Libby's head – especially since she and her sister are set to appear on the Hortense Calabash Cooking Show . The premise is to give six professional caterers random ingredients and have them whip up a holiday meal. Libby knows that cooking under pressure is not her forte – plus the camera adds ten pounds! She'll look like a stuffed Christmas goose.
The icing on the fruitcake is that Hortense Calabash is a Grinch of year-round proportions. And the other contestants are some of the most demanding – and difficult – chefs in the business. But, as Bernie points out: the show will be great (and more importantly, free) publicity for their store, A Little Taste of Heaven.
Bernie and Libby are thrown into the mix as arguments and accusations simmer on
the set. Holiday spirit has left the building – and leaves a body – when Hortense, all dressed up as Santa for the opening sequence, is killed by an exploding oven. It's soon clear that Hortense's demise is far from accidental.
Now as Bernie and Libby stir up the past, they open up a king-sized can of motives. Each contestant had a previous run-in with the horrible Hortense, who engaged in blackmail, rumor-mongering, and illicit affairs at every turn…but which of the chefs couldn't stand the heat? With the holiday rush in full swing and a killer still on the loose, the caterers of Christmas present have no choice but to wrap up the mystery before their geese are well and fully cooked…
REVIEWS

Publishers Weekly
"…will appeal to those with a taste for slapstick comedy."


Library Journal
"comical minor arguments, bitchy asides, cookie dependencies, and useful recipes keep this moving."

Romantic Times
"Quirky and fun…Not only is the mystery entertaining, it comes complete with mouth-watering recipes."

Harriet Klausner (Amazon)
"…A Catered Christmas is a lively and entertaining amateur sleuth mystery filled with plenty of red herrings, unexpected twists and turns, and deliberately planted false clues. The two sisters and their father engage in witty dialogue that will leave the readers chuckling out loud. The plot is believable, the characters are portrayed realistically, and there is enough action to keep readers turning the pages to find out what happens next."